Last updated on November 25, 2023
"Where are you going? To Ireland? Doesn't it rain there all the time and non-stop?"

We have been travelling to Ireland, Northern Ireland and Scotland for many years and our experiences are generally much better than many fear.
Page Contents (click line to jump the text)
Intro
Yes, of course it can rain in the north of Europe, but in the summer months these are usually isolated showers or a bit of drizzle. Of course, it can also rain continuously and persistently, but we have rarely experienced this.
Often, especially in the south of Ireland, it is sunnier, milder and drier than most people expect. On the north-west coast of Ireland, or even on Scotland's west coast, it tends to be changeable – there the motto is: "You don't like our weather? Then wait 20 minutes."
But facts are perhaps more helpful than opinions, so we have compiled some long-term weather statistics for various areas of Ireland and Scotland for you below:


General climate and weather
The climate in Ireland, England and Scotland is very much influenced by the Atlantic Ocean. The sea climate often causes a lot of wind and changeable weather. However, the relatively warm Gulf Stream also ensures a fairly mild and even climate: winters are warmer than in Germany, while summers are cooler – especially on the coasts.
At high altitudes in the Highlands it can snow in winter, but in the south of Ireland frost or snow is a rare occurrence, and temperatures there usually remain in the positive range even in winter. On all coasts from the south of Ireland to north-west Scotland, you can therefore always see palm trees growing, which thrive very well there.
The Atlantic winds always bring rain from the west. Where it first hits land, i.e. in the west, it usually rains much more than in the east.
Overall, it is therefore much warmer and drier in the south-east of Ireland than in the north-west of Ireland or Scotland. Many Dublin families therefore like to spend their holidays on the kilometre-long sandy beaches of the "Sunny South-East".
By the way, we live in the sunny south-east of Ireland (second home). At our location, south of Dublin, at the foot of the Wicklow Mountains, we run our motorbike rental business in the summer months (www.easycruiser.tours) and also offer nice guest rooms (www.the-view-accommodation.ie).

Surprising for many, but the statistics reveal: Rainfall in Ireland and Scotland is no higher than in Germany, and in some cases even lower in summer!


Best times to travel
Dublin and Ireland's East: The lowest rainfall can be expected from around March to July/August, the highest temperatures from May to October. In July and August, many families are on holiday at the beaches and coastal resorts, but even if it gets a bit crowded, this is still very harmless in Ireland compared to popular seaside resorts on the Mediterranean, for example.
Galway and Ireland's West: Basically similar to the east, but with more precipitation overall. In summer these are often just short showers or some drizzle, but from autumn to spring there is also more frequent persistent rain and also a lot of wind.
Glasgow and Scotland in general: Similar to Ireland's west, but a little more rainfall and slightly cooler temperatures. In the Scottish Highlands there can be a lot of midges (biting flies or mosquitoes) from June to August, which can be very unpleasant – in Ireland, however, this is not an issue.
Best time to travel for outdoor activities: If you like it warm, it's best to go to Ireland or Scotland from mid-June to mid-August. Slightly cooler but drier are May to mid-June in early summer and mid-August to late September in late summer. The core season for motorcyclists is from May to September.
But even in October and November there can still be many beautiful days in Ireland.
Another comparison with Munich and Hamburg: Both cities show statistically the highest temperatures AND the highest rainfall in the summer half-year, so summer is not a good time for motorcyclists here! Cooler but drier are spring and autumn. But who would be deterred from riding a motorbike in Germany in the summer?
So: If you can travel in Germany (for example), don't fear the Irish and British Isles!!!!

Graphs: Average annual precipitation and temperatures in Ireland, Scotland and Germany in comparison
Here are some interesting graphs of precipitation in Dublin, Hamburg, Munich, Glasgow and Galway.
The data are long-term average data from www.wetteratlas.de. I have created the evaluations from this data.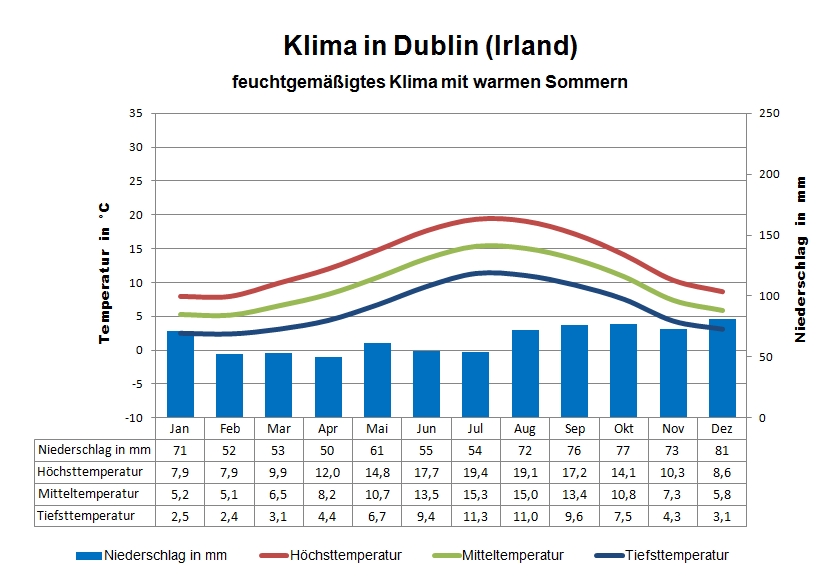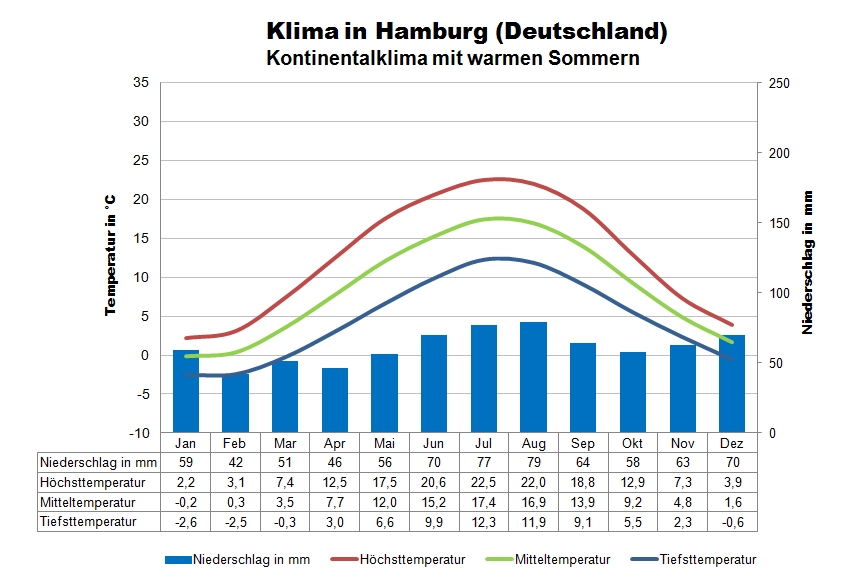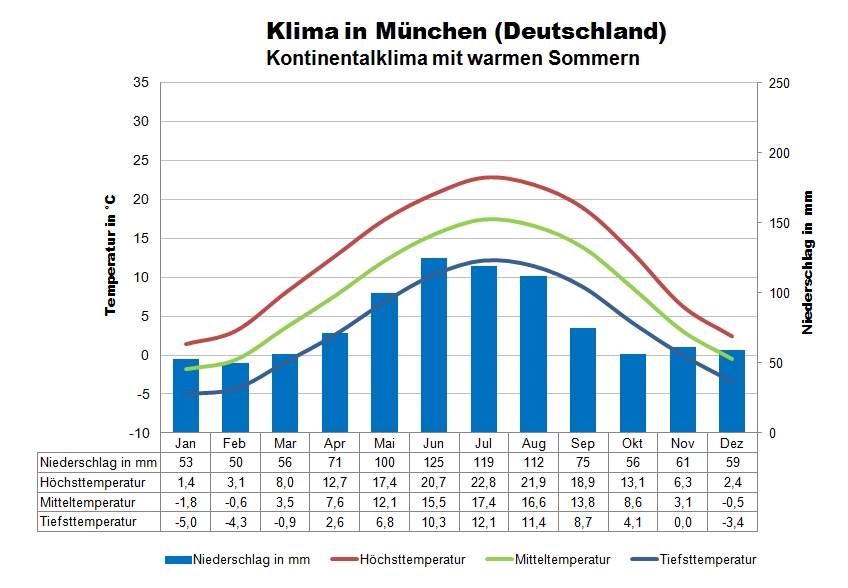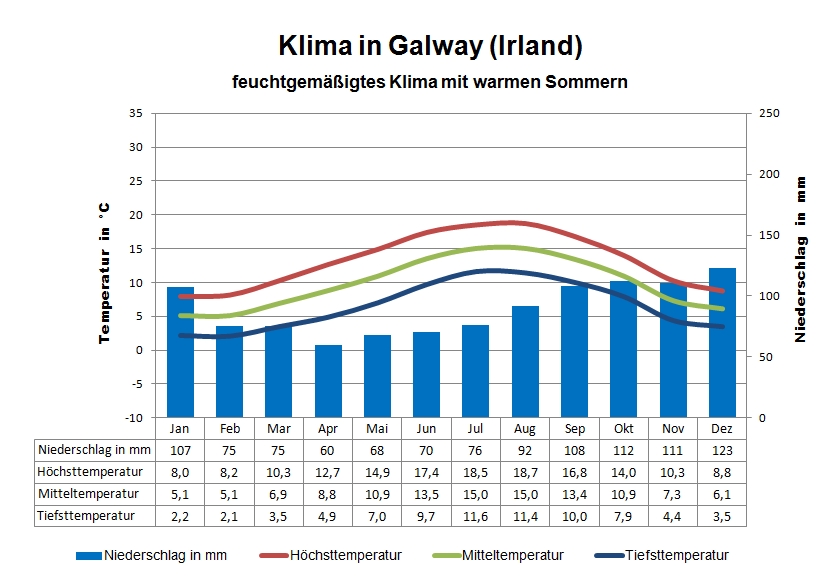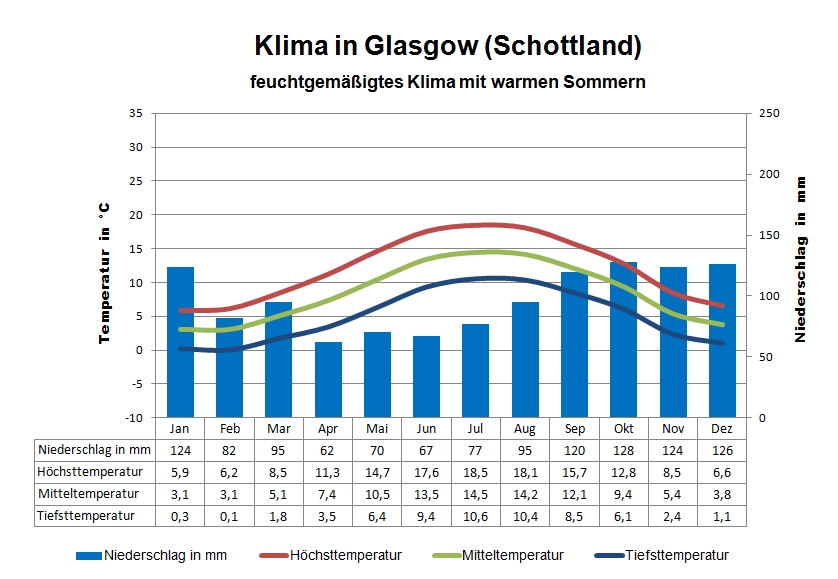 More interesting articles for you
WHY GO TO IRELAND OF ALL PLACES? – 9 GOOD REASONS FOR A TRIP TO IRELAND


LEFT-HAND TRAFFIC IN IRELAND – 15 THINGS YOU SHOULD KNOW FOR YOUR HOLIDAY TRIP!


15 TIPS FOR BOOKING ACCOMMODATION IN IRELAND



Photo credits cover photo: Ulrich Knüppel-Gertberg (www.easycruiser.tours, www.the-view-accommodation.ie, www.irland-insider.de, www.ireland-insider.com)
Statistics – temperatures and precipitation over the year in comparison:. Source: www.wetter-atlas.de. The bar graph "Precipitation in mm" is my own evaluation of this data.