Last updated on November 25, 2023
The west coast of Ireland attracts more and more individual travellers every year – and quite rightly so: the landscapes there are simply gorgeous, the cultural sites and small towns are very inviting and many holidaymakers still report years later about the soothing hospitality they experienced in Ireland.
Page Contents (click line to jump the text)
Intro
It is all the more surprising that many travellers have never heard of the Wild Atlantic Way!
This is a real shame, because a trip along the Wild Atlantic Way is certainly one of the most beautiful travel experiences you can have as a motorcyclist in Europe.
In the following series of articles I would like to introduce you to the wild west coast of Ireland. This first article will give you some general information about the Wild Atlantic Way and in the following articles we will take a closer look at the individual sections.
By the way, I know the Wild Atlantic Way very well from many of my own trips. In my case, these were often trips by motorbike, but of course you can also drive the same routes by car – as most travellers do.
My family and I are from Germany and have lived in Ireland (second home) for several years. We run our motorbike rental business (www.easycruiser.tours) at our location south of Dublin in the summer months.

We also offer nice guest rooms (www.the-view-accommodation.ie).

I hope to inspire you with this series of articles about this beautiful part of the world, the Wild Atlantic Way!


General information about the Wild Atlantic Way
The Wild Atlantic Way or WAW describes a tourist route along the west coast of Ireland. At around 2500 kilometres in length, the WAW is the longest continuous coastal road in the world. It begins at Malin Head on the Inishowen Peninsula in the north of Ireland and ends at Kinsale in the south of Ireland.
The route of the Wild Atlantic Way is marked by special signage, which also indicates the directions of north or south. There are over 180 Discovery Points along the WAW, which point out particularly beautiful photo motifs and provide information about these places on boards.
Among them are 15 Signature Points, which are specially designated because of their scenic uniqueness.
The 15 Signature Points of the Wild Atlantic Way:
Malin Head
Fanad Head
Slieve League
Mullaghmore Head
Downpatrick Head
Keem Bay
Killary Harbour (Killary Fjord)
Derrigimlagh
Cliffs of Moher
Loop Head
Blasket Islands
Skellig Islands
Dursey Island
Mizen Head
Old Head of Kinsale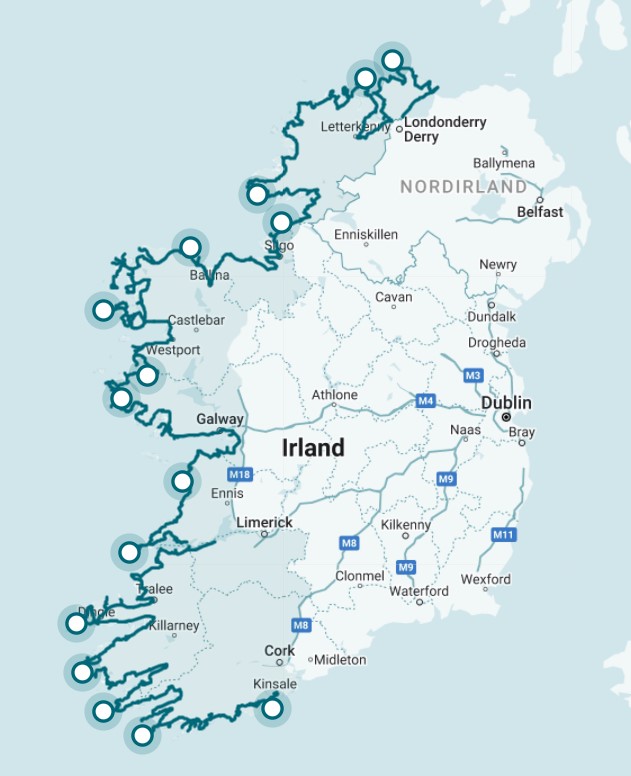 What can you expect from a journey along the Wild Atlantic Way?
Rough, windswept coasts, cliffs hundreds of metres high, where the wild Atlantic breaks foamy.
And then there are quiet bays and white sandy beaches with azure blue water that invite you to linger.
You drive through evergreen hills and sheep pastures, past medieval castles and monasteries and feel the magic of the Druids in the thousands of years old Celtic ring forts and dolmens.
And when you take up your evening quarters in one of the many nice little towns along the Wild Atlantic Way, you will enjoy the pleasant, uncomplicated hospitality of the Irish, their relaxed cheerfulness and sociability.
The hearty meal recharges your inner battery and with music and a good pint of Guinness you let the many impressions of the day pass you by before you sink into the plush pillows of your B&B room and look forward to your next day on the road.

The best time to visit Ireland and the Wild Atlantic Way
Statistically, May and June are the driest months in Ireland. The warmest season in Ireland is from mid-June to the end of July. The best times to travel in Ireland are between May and September.
April and October can be very nice times to travel in Ireland, but can also have cool and wet weather. During these months it is a good idea to keep an eye on the weather forecast and then book at short notice.
Many Irish families spend their summer holidays on the coasts of Ireland. During this period, from the end of June to the end of August, most holidaymakers can also be expected on the Wild Atlantic Way. However, the tourist crowds in Ireland are much smaller than, for example, on the Mediterranean, so that it only gets significantly crowded in a few particularly popular seaside resorts.
In spring and autumn, you can expect temperatures of around 10-15 degrees Celsius in Ireland. In summer, temperatures tend to be around 18-25 degrees Celsius. There are times when temperatures are higher or lower, but these are good guidelines based on climate statistics and a lot of personal experience.
In winter it can rain a lot and permanently with stormy winds. In the warmer months, from mid-May to mid-September, persistent rain tends to be the exception. The weather on the west coast is then often changeable with several sunny, cloudy and short showers in one day. Of course, you can also have a lot of sun or rain from time to time, which is difficult to predict.


What clothes do you need in Ireland and on the Wild Atlantic Way?
You may be lucky and spend your holiday in shorts and a T-shirt. However, it is more likely that it will rain or get chilly. So you should be prepared for everything from sunglasses and a sun hat to waterproof hiking boots and a rain jacket.
Typical outdoor clothing is fine, it is usually quick-drying and can be worn in layers on cool days.
You can always expect a lot of wind on the Wild Atlantic Way. A jumper, windproof jacket and hat are good companions.
If you're not interested in outdoor activities, you don't have to change your clothes for Ireland. With a pair of sneakers, a jumper and a waterproof jacket you are already well equipped. However, an umbrella is often of little use because of the wind.


How long does a trip along the Wild Atlantic Way take?
If you want to travel the entire route of the Wild Atlantic Way by motorbike, you should allow about 10-14 days for the journey.
The route is over 2500 kilometres long and you can expect daily stages of about 200-250 kilometres per day due to the road conditions.
The roads are often very narrow and the road quality is not always good. You might not be used to driving on the left, you might want to plan some time for sightseeing and of course you might need a break or two along the way.
Add to that one of the two break days in nice cities and the times for travelling to and from, and you will need to budget about 2 weeks of holiday time.
Trying to complete the route in just a few days is not recommended at all. You will simply miss the most beautiful impressions if you cut short the most beautiful routes due to lack of time. If you only have a few days to spare, it is better to ride only a part of the WAW and do it at your leisure.
The best tip for a motorbike trip on the Wild Atlantic Way: Take your time!


Where to stay on the Wild Atlantic Way
The Wild Atlantic Way is well developed for tourism and there are numerous hotels and B&Bs along the route and in all the main towns.
B&B, or bed-and-breakfast is the more original form of accommodation in Ireland. Often there are only 4 or 5 guest rooms, which are very nicely and personally managed by a family.
Here you get the best travel tips from locals and enjoy lovingly home-cooked hearty Irish food. B&Bs are usually a little cheaper than the big hotels.
On the other hand, the larger hotels have 24-hour reception, large restaurants and pubs, swimming pools and other amenities.
There are also home-stays, hostels and campsites.
You can easily book all these accommodation options with one of the big booking apps, such as booking.com or airbnb.com.
Do you have to book your accommodation in Ireland in advance? In the summer months from mid-May to mid-September, I would definitely recommend it from my own experience. Especially in July, many accommodations are booked up well in advance.
In spring and late summer/autumn, I only book one or two days in advance. That way I can relax without worrying too much about where to stay next and still be flexible enough to adjust my itinerary along the way.


How to find the most beautiful routes on the Wild Atlantic Way
You can drive to the 15 Signature Points mentioned in the text above, or part of them. Or you can simply drive to the west coast on the off chance and follow it.

The Wild Atlantic Way is generally well signposted: A white jagged wave on a blue background and the direction of travel (N for North and S for South) You can't really go far wrong – except for setting yourself too long daily stages:
The most important tips for a tour along the Wild Atlantic Way:
drive the small roads, they lead to the most beautiful places on the Irish island.
explore the hidden headlands and discover the small bays.
avoid the big national roads and motorways and don't cut the route short.
take your time in beautiful places – stay a while and enjoy.
you don't even have to make it around the island, it doesn't matter.
give yourself and the azure island in the Atlantic enough time to let its own magic work on you.
In the following articles of this Wild Atlantic Way series, I will show you some of the most beautiful coastal routes so that you can already get a good idea of your next holiday trip by motorbike at home!


More interesting articles for you
IRLANDS WILD ATLANTIC WAY – PART 2 – MALIN HEAD AND FANAD HEAD


IRELAND'S WILD ATLANTIC WAY – PART 3 – GLENCOLUMBCILLE AND THE CLIFFS OF SLIEVE LEAGUE


IRELANDS WILD ATLANTIC WAY – PART 4 – CEIDE FIELDS AND ACHILL ISLAND
Photo credits cover photo: Ulrich Knüppel-Gertberg (www.easycruiser.tours, www.the-view-accommodation.ie, www.irland-insider.de, www.ireland-insider.com)
Picture credits WAW map: www.discoverireland.com