Last updated on November 25, 2023
For the exclusive travellers for whom B&Bs are not enough and who are already bored in the eternally same modern 5-star hotels, we have a special inspiration: castle hotels in Ireland!

But also for the many travellers among us whose travel budget is less exclusive, an overnight stay in an Irish castle is a very special highlight on a trip through Ireland.


Page Contents (click line to jump the text)
Castles in Ireland over the centuries
Europe has many castles, but Ireland has a particularly large number of castles. In the early Middle Ages, a castle was little more than a stone tower, usually square, which was the centre of a clan's sphere of influence and offered protection against the attacks that were so frequent. The island was covered with clans and each laird had a castle. So you find these square towers all over Ireland. They offer good protection against attack but little space or comfort and so it is little wonder that they are scarcely represented among today's castle hotels.
With the later Middle Ages, the Normans came to Ireland and consolidated their rule with defiant Norman castles – these already offered much more space, but were also primarily military complexes and not very comfortable. When Oliver Cromwell arrived in the 16th century on behalf of the English crown with cannons and shot numerous holes in the previously impregnable castles in a very short time, the proud Irish lords were then forced to capitulate. These castles are also beautiful to visit today, but are only suitable for overnight stays to a limited extent.
The English ruled Ireland for several centuries and with them came many rich English nobles who were granted fertile lands by the English crown. Naturally, they wanted to live in a manner befitting their station, and in the 17th and 18th centuries they built many magnificent castles, mansions and houses with beautiful gardens and parks.
The English nobility particularly liked to settle in the fertile east, in a wide belt around Dublin, the so-called "Pale". South of Dublin, in County Wicklow, you can visit several dreamlike "House & Garden" today, whereby the houses are more like castles and the gardens more like parks. Wicklow is therefore often called the garden of Ireland.
Many other magnificent residences of the nobility were built all over Ireland.
In most cases, larger estates belonged to the property and many of these castles from the 17th and 18th centuries were extremely spacious and comfortably furnished. Those who held themselves in high esteem celebrated sumptuous festivities in large parties and because the journey by coach could take several days, they naturally needed many guest rooms, a number of representative rooms, utility rooms, servants' quarters, stables and barns and sheds.
A noble court needed a lot of space and many rooms! These rooms were high and bright and large. The interior was extremely dignified: Woven tapestries and curtains, elaborate colourful wallpaper, the finest furniture made of the finest exotic woods, picture galleries, elaborate dams and fountains, noble vases and the finest porcelain, modesty was not yet a desirable virtue at that time. This splendour and pomp are impressive, but also very unusual for the modern eye – you first have to be able to process so much kitsch and colour…!
The lesser nobles further north and west, where the soil was less fertile, had to live somewhat more modestly. A mansion, i.e. a very large house, and a few stables and outbuildings had to suffice, because money was not so plentiful everywhere. But these mansions were often in breathtakingly beautiful locations by a lake, a river, on a hill, or directly in front of a mountain range.
The interior was somewhat simpler to suit the purse: hunting trophies above the large fireplace, solid furniture made of local woods, a small library with leather armchairs, rustic ceramics and simpler carpets and curtains. Today, this would perhaps be described as country house charm. From today's point of view, these are usually extremely beautiful and pleasant estates, spacious but without "sensory overload".
These 17th and 18th century castles still lend themselves to receiving noble guests on a grand scale.

Staying in an Irish Castle Hotel
Did I mention that many of these magnificent castles and mansions are now hotels?
Yes, you can stay there too – live like a lord in Ireland for once! Or like a Duke and Duchess? Depending on your wallet…
Some of the prices are not much different from the usual 4-star hotels, but some are in the very high 5-star category.
Apart from the choice of castle, it depends on which month you book your overnight stay. Bookings in early summer and autumn are certainly cheaper than in summer. You should also book several months in advance.
But if you plan your trip to Ireland half a year in advance, you can book your accommodation right away.
You can stay overnight in a castle during your tour in Ireland, or you can plan a whole castle tour. There are castle hotels almost everywhere in Ireland, so you can do a tour along the Wild Atlantic Way, for example, and stay in a castle every night.
Below I have compiled a table of 26 castle hotels for you to make your planning easier:


26 castles in Ireland where you can stay:
In the following table you will find 26 hotels in Castles and Mansions in Ireland with their respective websites: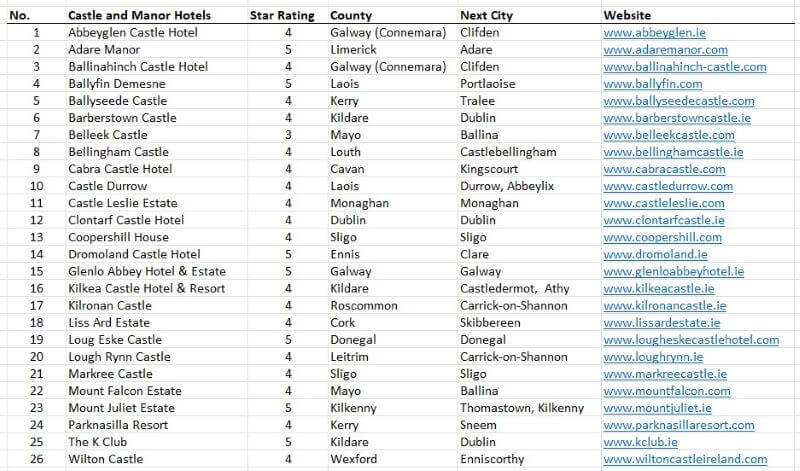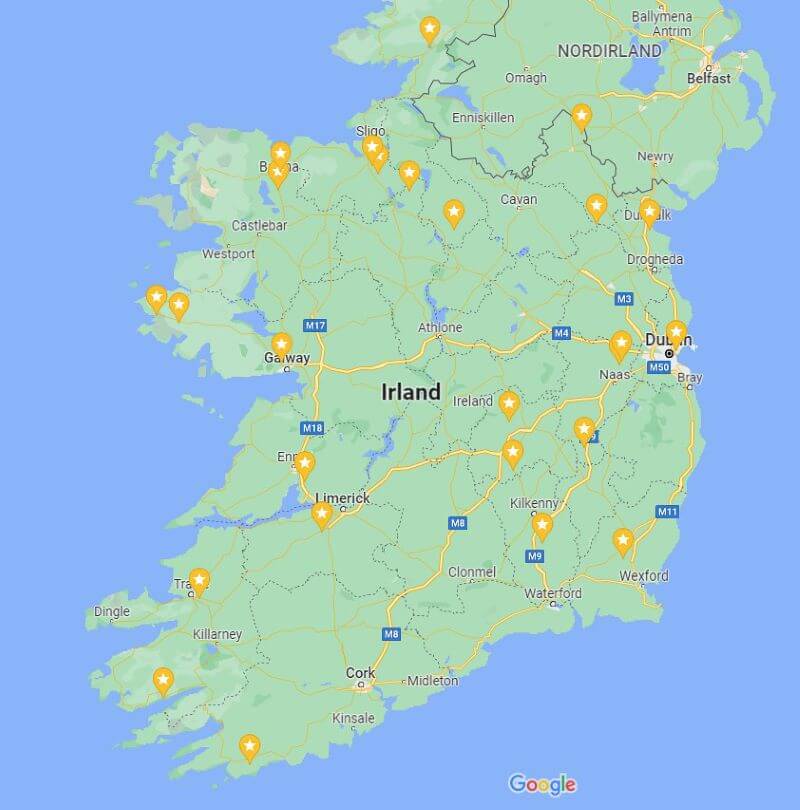 There are of course many more than 26 castles and mansions where you can stay in Ireland, but this selection will certainly give you a first overview and quite rightly a good inspiration for your upcoming trip.
The map shows you that these castles are spread all over Ireland. If you want to search for a castle hotel in a certain county or area, you can easily "Google" it.
And maybe there is a fairytale castle waiting for you to discover it and book it for your next trip to Ireland!
On the way to or from Dublin you can also stay with us, we don't have a castle but a large house with spacious guest rooms at the foot of the Wicklow Mountains, south of Dublin (www.the-view-accommodation.ie). – See you in Ireland!


More interesting articles for you
THE MOST BEAUTIFUL CASTLES AND PALACES ON THE IRISH ISLAND – 35 TIPS FOR YOUR ROUND TRIP


VIKINGS – A TOUR IN THE FOOTSTEPS OF THE HIT SERIES – AND THE VIKING HERITAGE OF IRELAND


THE MOST BEAUTIFUL SANDY BEACHES IN IRELAND'S SOUTHEAST – 14 TIPS FOR EXPLORERS



Photo credits cover photo: Ulrich Knüppel-Gertberg (www.easycruiser.tours, www.the-view-accommodation.ie, www.irland-insider.de, www.ireland-insider.com)