Last updated on November 25, 2023
Ireland has a chequered past. Over the centuries, the green island in the Atlantic has been invaded, conquered and ruled by Celts, Vikings, Normans and Anglo-Saxons. Numerous castles and fortresses, as they are called in Ireland, still bear witness to these eventful times.

If you take a tour of the island of Ireland, you will see them everywhere – the number of castles on this island is incredible! Many of the 18th and 19th century castles are now hotels – you can find these listed in our other blog article on castle hotels. This article is more about the sights you can visit on your trip.

Below I have listed 35 of the most beautiful castles that you can visit and see on your trip through Ireland and Northern Ireland:


Page Contents (click line to jump the text)
35 of the most beautiful castles in Ireland and Northern Ireland:
Antrim Castle Gardens in Northern Ireland
Aughnanure Castle near Galway on the west coast of Ireland
Belfast Castle in Northern Ireland
Blarney Castle near Cork in Southern Ireland
Birr Castle in the middle of Ireland
Bunratty Castle, near Limerick on the west coast
Cahir Castle in southern Ireland north of Cork
Carrickfergus Castle in Northern Ireland
Castle Ward with Winterfell in Northern Ireland
Clifden Castle on the west coast, west of Galway
Crom Castle in Northern Ireland
Doe castle in northwest Ireland
Donegal Castle in north-west Ireland
Doonagore Castle on the west coast, south of Galway
Dublin Castle, in Dublin on the east coast
Dunguaire Castle, on the west coast, south of Galway
Dunluce Castle, in Northern Ireland
Enniscorthy Castle, in south-east Ireland
Enniskillen Castle in Northern Ireland
Glenveagh Castle in Northwest Ireland
Grace O'Malley`s Tower in Northwest-Ireland
Huntington castle in southeast ireland
Johnstown Castle in south-east Ireland
Hillsborough Castle in Northern Ireland
Kilkenny Castle in South-East-Ireland
King John`s Castle in Limerick and the West Coast
Lismore Castle in Southern Ireland east of Cork
Leap Castle in the centre of Ireland
Malahide Castle in Dublin on the east coast
Parkes Castle in north-west Ireland
Rock of Cashel in south-east Ireland
Ross Castle on the south-west coast
Slane Castle in north-east Ireland
Trim Castle in north-east Ireland
Tullynally Castle in the centre of Ireland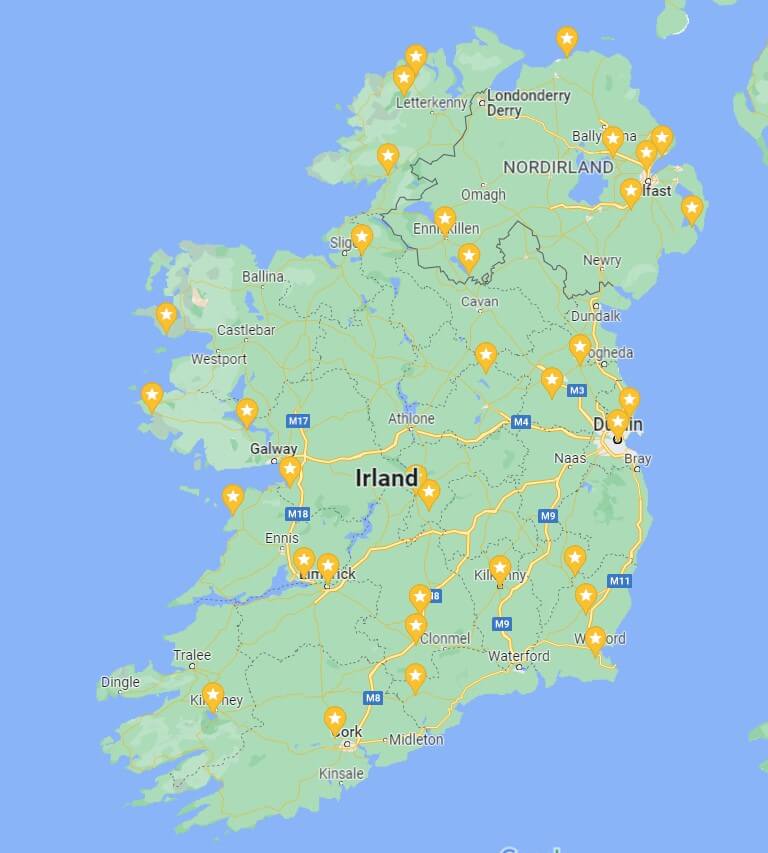 What actually is an Irish castle?
In the early Middle Ages, it was often just a tall, massive, square tower. It served as protection for the many clans on the island from the frequent raids of their neighbours.

There were many clans and each had at least one of them. This is why you see square towers, or ruins of them, all over the landscape in Ireland.

In the High and Late Middle Ages, castles became larger, more defiant and more sophisticated with multiple rings of walls and many buildings and towers.

The Normans left behind some particularly imposing examples of this. These castles, too, had primarily a protective function and were the seat of power and military base of the respective dominions.

With the end of the Middle Ages, fortified castles became less important and the high nobility placed a much higher value on comfort and representation, which was simply not feasible in the draughty narrow thick walls of the old castles.

And so, from the 16th to the 19th century, many magnificent castles were built all over Ireland, but especially in the wider eastern region around Dublin.

So a castle in Ireland can be anything from a tower on a cliff, to a defiant castle, to a magnificent palace. If you are interested in the Middle Ages and castles, you will get your money's worth in Ireland.

If you like, you can even put together a whole round trip from castle to castle:
From the castle list to an individual castle tour
On the map below you will find all the castles mentioned marked. As you can see, they really are spread all over the island.

To make it easier for you to find your way around, I have added the respective regions to the castle names.

That way you know where to find them. If you want to plan a tour, you can, for example, select a point of the compass and then take a closer look at the corresponding castles in Google Search and Google Maps.

You can easily find all the castles listed there. You can, for example, do a tour of Northern Ireland with a good part of the Wild Atlantic Way and combine that with a few castles of your choice.

The castles for this example are then described in the list above with the regions Northern Ireland and Northwest Ireland. Once you have found the castles of your choice, you can put together a tour.

This is very easy with the route function in Google Maps. For example, you can do a Northern Ireland tour with a good part of the Wild Atlantic Way and combine that with some castles of your choice.

Or you can do a Southern Ireland tour with the Wild Atlantic Way and some nice castles.

In Ireland you can expect an average of about 200-250 km per day. If you plan a lot of sightseeing, it's more like 180-200km per day.

This may not seem like much, but in addition to the left-hand traffic, there are narrow and bumpy country roads, so your travel speed will be rather slow.

Take it easy and plan enough time for the castles, otherwise it can quickly become stressful. And if you rent a motorbike from us (www.easycruiser.tours) for the tour you have just created, you will always get a Tomtom Rider motorbike navigator with it, so that you can easily find and drive to all your chosen castles and places to stay overnight.



A practical example of a castle motorbike tour in eastern Ireland and Northern Ireland
If you have already visited the beautiful wild Atlantic coast and are wondering what else there is to do in Ireland, then a castle tour off the west coast is recommended.

You'll see a lot of the inland, which is also interesting, take a leisurely drive through the countryside and visit 2-3 castles every day.

Sounds good?

Then you will find below a suggestion for a leisurely castle week tour in Ireland and Northern Ireland. I have simply taken our location south of Dublin as the start and destination.
We run our motorbike rental here in the summer months (www.easycruiser.tours) and also have nice guest rooms for travellers (www.the-view-accommodation.ie).

The castles on this tour:
Huntington Castle near Bunclody
Enniscorthy Castle in Enniscorthy
Johnstown Castle near Wexford
Kilkenny Castle in Kilkenny
Leap Castle not far from Roscrea
Birr Castle in Birr
Tullynally Castle north of Mullingar
Crom-Castle, south of Enniskillen
Enniskillen Castle in Enniskillen
Antrim Castle in Antrim
Belfast Castle near Belfast
Hillborough Castle at Hillborough
Slane Castel near Slane
Trim Castle near Trim
Dublin Castle in Dublin City
Malahide Castle near Dublin Airport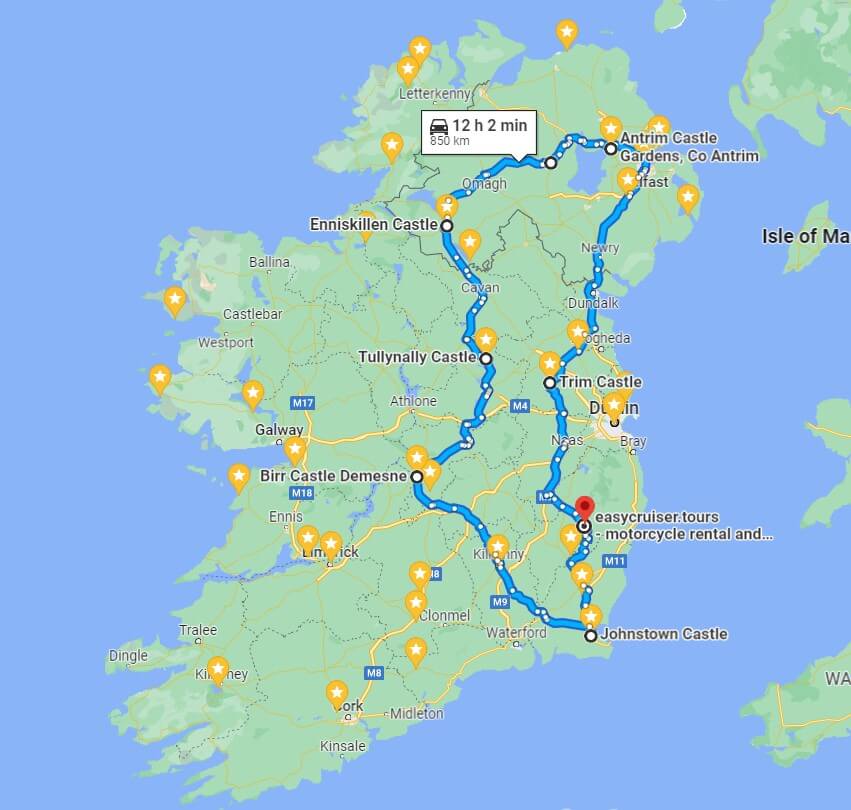 Information about this tour
The total distance is about 900km. If you allow plenty of time for sightseeing and choose the small, beautiful country roads (R and L) instead of motorways (M) and large national roads (N), you can expect about 150-200 km per day.
This makes it a 6-day tour with visits to about 2-3 castles per day. The two castles in Dublin, Dublin Castle in the city and Malahide Castle near the airport, can be visited with an additional day of sightseeing and a last overnight stay in Dublin before your flight home, making this a one-week holiday trip.
All of these castles are easy to find on Google Maps and at intervals of about 150-200km daily stages, you can also pick suitable places to stay along the route.
I personally like to book overnight stays with www.booking.com, which I also have as an app on my smartphone, but of course you can also choose another booking platform.
And now I wish you lots of fun and anticipation while planning your personal Castle trip on the Irish island!


More interesting articles for you
POSH LIVING IN IRELAND – 26 BEAUTIFUL CASTLE HOTELS FOR YOUR TRIP


VIKINGS – A TOUR IN THE FOOTSTEPS OF THE HIT SERIES – AND THE VIKING HERITAGE OF IRELAND


POSH LIVING IN IRELAND – 26 BEAUTIFUL CASTLE HOTELS FOR YOUR TRIP



Photo credits cover photo: Ulrich Knüppel-Gertberg (www.easycruiser.tours, www.the-view-accommodation.ie, www.irland-insider.de, www.ireland-insider.com)
Maps: Google Maps